What We Do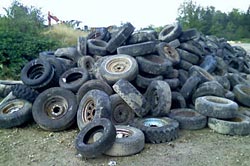 We offer complete site cleanups, on-call pickups, weekly route pickups, trailer spotting or roll off containers at your site or you can bring the tires directly to our recycling facility located in New Bedford, MA.
Bobs Tire Co. operates state of the art tire shredders to break down the tires into small chips which are then shipped to another facility for use as tire derived fuel (TDF). Some of the tires are processed for use by the local fishing industry as part of their nets.
Bobs Tire Co. will load used tires into your container or trailer at our facility for shipping around the corner or around the world.
Bobs Tire Co. has been in the scrap tire removal and used tire sales business since 1976. We have been providing reliable and friendly tire removal for thousands of satisfied customers in all the New England states and New York.
Over the years we have grown from just one small truck to a fleet of:
over 30 box trucks and tractors
over 200 trailers
and over 400 roll off containers.
Transparency in Coverage
Follow this link for our group healthcare transparency in coverage MRF files: https://transparency-in-coverage.bluecrossma.com/